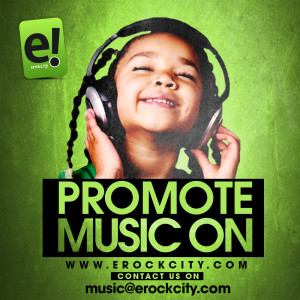 Are you a Musician,  Record Label Owner or Artiste/Brand Manager? We can Showcase your Artiste work  on our website and Experience the true Effectiveness of  Internet promotion.
Here are the advantages of promoting your song on Erockcity:
1. Your Music get Featured on our Website with over 60,000 visitors and 150,000 Pageviews Daily
2. We Promote your Music on our Facebook Page to thousands of our fans.
3. We Promote your Music on our Twitter Page to thousands of our Followers.
4. We Share your Music or Video Link to our ever Effective Users on BBM Channel to Over 15,000+ Subscribers.
5. We Guarantee nothing less than 50,000 Downloads on your Songs or Video.
6. Banner Placement of your Artiste Artwork with a Link to the Music Page.
Get your Song Uploaded on Erockcity.com Today & Enjoy all of the Above mentioned Advantages.
How To Contact Us?
Send us a Mail to music@erockcity.com  or call Damilola on +2348179146408 or +2348112737391 for Instructions on How to Get your Music/Video on Erockcity.com